Family Of the Month
Council Family of the Month
January 2020: Frank & Olga Fratoni Family


The Fratoni family, Frank, Olga, Garrison and Duncan are Council 11101 Family of the Month for January 2020.
Frank took his Admission Degree (First) on 11-13-1995 at Council 939. He took his Formation Degree (Second) on 12-01-1995 and his Knighthood Degree on 10-19-1996. Frank is a K of C Insurance Member, who has a Knights' Life Policy.
Encouraged by Frank, his sons Garrison and Duncan are both members of the Knights. Garrison took his Admission Degree (First) on 06-29-2015, and then took his Formation Degree (Second) on 06-16-2016. Duncan took his Admission Degree on 12-7-2017. They completed their Third Degree together in 2018.
Frank's favorite Council programs are:
LAMB
Coats for Kids
Thanksgiving Turkeys
Lenten Fish Fry's
Blood Drives
Christmas Party
First Friday Adoration
Knights Monthly Rosary
Pancake Brunches
Frank's favorite parish and community charities:
EWTN/SPX Media volunteer: communicates EWTN notices, emails, etc. for SPX Church bulletins, and Pennyburn newsletters, OLG Parish Council, Music entertainment volunteer at Stratford Retirement Home and Forsyth Court, Donations to SPX/Urban Ministry Food bank, Newcomer Committee cook for luncheon, Valentine Party Cooking, Crop Walk, SPX Church sound system engineer.
Olga's favorite charities are:
Martha's Helpers providing bake goods for events, Valentine Dinner Preparation, Newcomer Committee Member Dinner Preparation, Welcoming Committee for new parish members, Weekly food donations for Urban Ministry, Christmas Angel Tree presents, Provide Mass Transportation for homebound, Annually Advertise in Parish Bulletin.
Duncan's favorite charities:
Operation Lamb Collection
Pancake Breakfast Preparation assistance
Valentine Dinner Preparation assistance
Volunteered for Special Olympic Games
Contributes to Backpack Beginnings for Homeless
Volunteered food collection events for National Honors Society
Volunteers in School Book Donation Program.
Performs with Jazz Programs at Retirement Villages.
Garrison's favorite charities:
Operation Lamb Collection
Valentine Dinner – bartender assistance
Organize collections while Interning for homeless
Volunteered Referee at Special Olympic Games
Volunteers as Teacher for Youth Soccer Referee Class.
Volunteers weekends to assist in Soccer Clinics.
Runs Marathons – collecting funs from sponsors for homeless.
As you can see, Frank and his family are very involved in our parish, council and community. Frank, Olga, Garrison and Duncan provide service and leadership through their acts of charity, while simultaneously building Parish unity and developing our Council's brotherhood and sisterhood.
The Fratonis are Council 11101 "Family of the Month" for January 2020.
Congratulations Frank, Olga, Garrison and Duncan.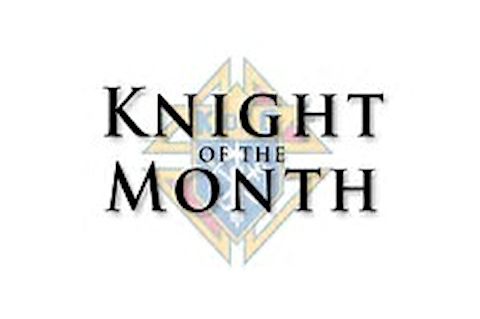 Knight Of the Month
Council Knight of the Month
January 2020 : Jim Schiermeyer


Jim Schiermeyer is Council 11101 Knight of the Month for January 2020.
Jim joined the Knights of Columbus in 1984 while stationed at Wright-Patterson Air Force Base in Fairborn, Ohio. He quickly received his Second and Third Degrees in the same year. A retired Air Force Lieutenant Colonel, Jim has been a member of several Councils before transferring to Council 11101 in 2018. He is currently serving as the Council Community Director.
Jim likes the camaraderie and brotherhood of the Knights of Columbus. When his schedule permits, Jim likes to work in the kitchen during Sunday brunches and the fish fry. Jim has always enjoyed working with youth as a soccer coach, soccer referee, Girl Scout leader, Scoutmaster, Assistant Scoutmaster, and is currently the St. Pius X Boy Scout Troop 244 Committee Chairman.
Jim served 28 years in the Air Force. His primary duty included assignments as a C-141 Pilot, Research Test Pilot, and in research and development programs. Jim worked on the GPS System, Space Station, and the T-1 and T-6 trainers. His last assignment at Arnold Air Force Base in Tullahoma, Tennessee, dealt with rocket engine testing, space chamber testing, and wind tunnel testing. After retiring from the Air Force, Jim worked for the Army as the lead safety engineer on the PATRIOT and THAAD missile systems for 15 years. He retired as a GS-14.
Jim grew up in Los Angeles, California, and is one of fourteen children. He attended Loyola University of Los Angeles and received a Bachelor of Science degree in Physics. Jim has had a lifelong love of learning, earning a Master of Science degree in Systems Management from the University of Southern California and a Master of Science degree in Physics from the University of Tennessee. He also completed numerous military education courses including Squadron Officer School, Air Command and Staff, Air War College, and National Security Management.
Jim has been married to his wife Lucy for 46 years, has three children and four grandchildren. His son, James, just took his Admission Degree in Knoxville, Tennessee. Congratulation Jim on being selected Council 11101 Knight of the Month for January 2020.