Family Of the Month
Council Family of the Month
October 2019: Charles & Cyndi Cheney


Charles and Cyndi Cheney are St Pius X Council 11101 Family of the Month of October.
This Fraternal year, Charles was elected as our council's Chancellor.
Charles was admitted to the Council and received his 1st degree in June 2018 and received his 2nd degree in October of 2018. Charles then received his 3rd and 4th degrees in February 2019.
Charles and Cyndi were married 26 years ago in Syracuse, NY. They moved to Greensboro NC in 2009 after Charles's job transferred. They began attending St Paul the Apostle church, but then moved to St Pius X 3 years ago. They have two daughters Elizabeth and Kelsey. Elizabeth will graduate from NC State with a degree in Chemistry. Kelsey is a rising senior who regularly participates in various youth activities at the parish and is also heavily involved in Special Olympics.
In his short time as a Knight, Charles has volunteered at monthly pancake breakfasts, the annual fish fry dinner, participated in our Lamb drives and served as the Council Chair for the State Raffle.
Cyndi assisted Charles with the State Raffle and helped put together blankets given to the Women's Hospital by our 4th Degree Assembly. Both also served on the committee for the Knights' Christmas party.
Charles and Cyndi enjoy participating in functions for the parish as well as the Council and continue to look for ways to volunteer and help.
Charles and Cindi have a Catholic family that provides much parish leadership and service. Their great willing charity encourages unity and fraternity from us all.
They are the October Knights of Columbus "Family of the Month."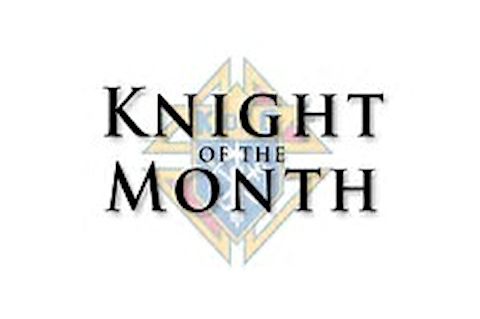 Knight Of the Month
Council Knight of the Month
October 2019 : Walt Edwards


Walt Edwards is St Pius X Knight of the Month for October. Walt was born and raised Catholic in Charleston, West Virginia. He met and married his wife Karen, while he was in the Army at Ft Campbell, KY.
In 1980 he went to a Cursillo weekend at Blessed Mother Church in Owensboro, KY, where he had a rebirth of his Faith. Shortly afterward, he and Karen moved to Greensboro.
Walt worked for Rice Toyota as the Finance Insurance Manager, Traders Chevrolet, as the Truck Sales Manager, and Country Wide as the Wholesale Mortgage Account Rep.
Walt joined Knights of Columbus in October 2011. He received his Second and Third Degrees in 2012, and he completed his Fourth Degree at St Pius X on February 16th.
Walt is active in many Knights' service programs and community activities: Blood Drives, Fish Frys, Pancake Breakfasts, LAMB Drives, First Friday Adorations and the Knights Monthly Rosaries.
Each week, Walt visits two different Nursing Homes. On Sunday, he visits Guilford House Memory Care residents and brings them ice cream. He said they don't always remember him, but they do remember the chocolate ice cream. Then on Thursdays, he visits a retired Fire Chief at Golden Living Nursing Home. The Fire Chief is in skilled nursing care and has no surviving family, so Walt makes sure he gets a weekly visitor.
Walt is a long time volunteer for SPX Meals On Wheels, Senior Resources of Guilford County. On the first Monday of every month he delivers meals to physically and socially isolated homebound seniors. Walt works with SPX coordinators Brother Stu and Delores Ahrens.
Walt is also a volunteer for SPX Senior Wheels of Guilford County, where he drives seniors to their Doctor visits once each month.
Walt is a Lector and Altar Server at the weekly Friday Mass at St Pius X Church.
He also teaches a Bible Study and Tai Chi at Dolan Manor. Walt began his Biblical teaching at a weekly Bible Study class at the YMCA. Then he joined the St Pius X bible studies when Bible Study classes began with Brother Dan Curran and Peter Arsenault.
He also enjoys participating in the senior Tai Chi and senior gentle Yoga classes that are held at St Pius X on Thursday's.
Walt is a very involved St Pius X Brother Knight, who provides Council service through his acts of charity, simultaneously building Parish unity and developing Council brotherhood.