Family Of the Month
Council Family of the Month
March 2019: Warren & Karen Duhaime


Warren & Karen Duhaime are St. Pius X Council 11101 March Family of the Month.
Warren received his Knights of Columbus Admission (1st) Degree in January 1985. He received his 2nd and 3rd Degrees in February and March 1986 and his 4th Degree in November 2014. Warren and Karen met in high school. He joined the Marine Corps in 1963 and spent 1967-68 in Vietnam where he flew in UH-34Ds for the Ugly Angels, HMM 362 Marine Air Squadron. Warren served as Sergeant in Logistics and helicopter gunner.
Shortly after his return home, Warren and Karen married in 1968, and in the years following they had three children: Aaron, Allison and Kevin, and now have six grandchildren. Their children received their CCD training from Brother Tracey Welliver at St Pius X. Warren and Karen recently celebrated their 50th wedding anniversary at Bald Head Island with their family of 16.
Warren and Karen Duhaime are very involved parishioners at Saint Pius X. They both volunteer on the SPX Consolation Ministry assisting with funerals. They facilitate Bingo once a month at Dolan Manor. They have also volunteered at the Potters House homeless shelter, a part of Greensboro Urban Ministry, where they served and cooked for the homeless.
Warren and Karen are both involved in a variety of other parish functions including the Social Ministry (our Valentine Dance, Game Nights, Receptions, etc.), Fall Festivals, Knights Christmas party, decorating and un-decorating SPX Church at Christmas. They have volunteered for nursery duty so moms could attend bible studies. Karen and Warren helped Father Louis Canino open and remodel the Franciscan Center on Greene St., where they did painting, carpentry, remodeling, electrical wiring and miscellaneous tasks. They have also supported various events at St. Francis Springs, in Stoneville.
Karen has volunteered at the Catholic Heart Work-camp. The St Pius X Youth Group sent 30 youths and chaperones from our parish to South Carolina to repair hurricane-damaged homes.
Karen currently volunteers in the Confirmation faith formation classes. Warren volunteers at the SPX Senior Luncheons making preparations for the luncheons, special programs/entertainment, and fellowship. He is also an Extraordinary (Eucharistic) Minister at Mass once every month. His team needs more Brother Knights as Eucharistic Ministers; if you are interested, please call Warren for information.
He always participates in all things Knights such as fish fry, LAMB drives, blood drives and other fun raisers.
Warren held many Knights of Columbus Officer positions. He has been Deputy Grand Knight, Chancellor, Retention Chairman, and Outside Guard. Warren is also a member of our Assembly 3253, where he was the Inner Sentinel and then Outer Sentinel. Karen, always at his side, has been a great help to Warren in those positions and enjoys being with Warren and the other Knights during our programs and projects such as monthly Rosary, Right to Life programs, Room at the Inn support banquet, etc.
Warren & Karen are a Catholic family that provides parish leadership and service through their charity and fraternity.
They are the March Knights of Columbus "Family of the Month." Congratulations Warren and Karen!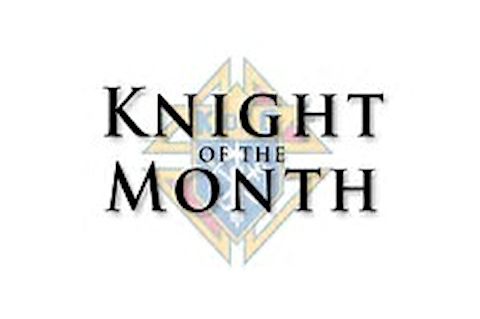 Knight Of the Month
Council Knight of the Month
March 2019 : Walt Edwards


Walt Edwards was born and raised Catholic in Charleston, West Virginia. He met and married his wife Karen, while he was at Ft Campbell, KY.
In 1980 he went to a Cursillo weekend at Blessed Mother Church in Owensboro, KY, where he had a rebirth of his Faith. Shortly afterward, he and Karen moved to Greensboro.
Walt worked for Rice Toyota as the Finance Insurance Manager, Traders Chevrolet, as the Truck Sales Manager, and Country Wide as the Wholesale Mortgage Account Rep.
Walt joined Knights of Columbus in October 2011. He received his Second and Third Degrees in 2012, and he completed his Fourth Degree at St Pius X on February 16th.
Walt is active in many Knights' service programs and community activities: Blood Drives, Fish Frys, Pancake Breakfasts, LAMB Drives, First Friday Adorations and the Knights Monthly Rosaries.
Each week, Walt visits two different Nursing Homes. On Sunday, he visits Guilford House Memory Care residents and brings them ice cream. He said they don't always remember him, but they do remember the chocolate ice cream. Then on Thursdays, he visits a retired Fire Chief at Golden Living Nursing Home. The Fire Chief is in skilled nursing care and has no surviving family, so Walt makes sure he gets a weekly visitor.
Walt is a long time volunteer for SPX Meals On Wheels, Senior Resources of Guilford County. On the first Monday of every month he delivers meals to physically and socially isolated homebound seniors. Walt works with SPX coordinators Brother Stu and Delores Ahrens.
Walt is also a volunteer for SPX Senior Wheels of Guilford County, where he drives seniors to their Doctor visits once each month.
Walt is a Lector and Altar Server at the weekly Friday Mass at St Pius X Church.
He also teaches a Bible Study and Tai Chi at Dolan Manor. Walt began his Biblical teaching at a weekly Bible Study class at the YMCA. Then he joined the St Pius X bible studies when Bible Study classes began with Brother Dan Curran and Peter Arsenault.
He also enjoys participating in the senior Tai Chi and senior gentle Yoga classes that are held at St Pius X on Thursday's.
Walt is a very involved St Pius X Brother Knight, who provides Council service through his acts of charity, simultaneously building Parish unity and developing Council brotherhood.